Looking Back: A Peter Button Rescue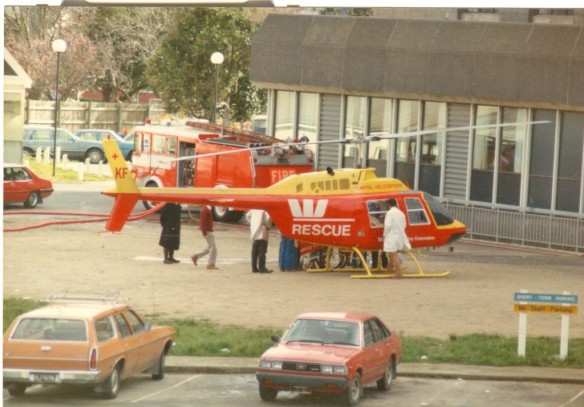 Late in 2008 Don Morgan had an operation that closed the final chapter on a nasty trail bike accident which required an emergency airlift to hospital 25 years ago. The July 1987 Westpac Rescue Helicopter mission was flown by Life Flight co-founder Peter Button, just weeks before Peter was tragically killed in a chopper crash.
Don and his brother were trail riding in the Tararuas, early in the morning when Don slid off the track and down a large bank, breaking his leg severely. "We tried to tape sticks to my leg to keep it together, with the intension of riding out of the bush. It wasn't to be as the bone was truly broken.
"Wynne, my brother, rode back to Upper Hutt for help. I lay on the track for hours in the rain, it was pretty cold but I was well rugged up with a bush shirt. Help arrived late in the day, they had sent a four wheel drive ambulance but it couldn't get close enough to the accident site. It would have taken hours to get me up to the ambulance on a stretcher. They then decided I needed a helicopter.
"The Police and paramedics cleared a bit of scrub away from the edge of an old logging track… Then Peter Button landed the helicopter half perched on the side of the hill in the clearing. With me loaded in we were off, landing in the hospital car park around 5 or 6pm.
"I called Peter a few days later to say thanks as it was a memorable bit of flying, if it wasn't for him it could have been a long night in the bush."
After surgery Don's leg never set properly so in 2008, two decades after the accident, the leg was re-set with a pin. The pin was taken out in a successful operation in 2010.
Don has been supporting Life Flight since 1989 when he started his own business. "I donate when I can. It's a fantastic service for someone like me. I love my outdoors and I'm always out and about. You just never know when you may need the Life Flight services like me."